A chance to learn drawing principles within the classic study of the human form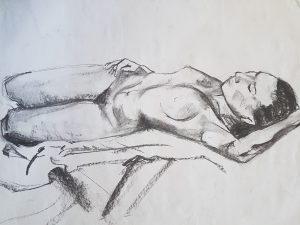 If you'd like another opportunity to get a little artistic this course will give you the chance to develop fundamental drawing skills in these Life Drawing classes.  There is something special about learning to draw in this kind of setting.  It's personal, intimate and the human body is simply a beautiful thing to study.  These classes are for anybody – total beginners and total experts.
The course of 4 evenings will give you the opportunity to develop skills in perspective, proportions, light and shade, use of negative space, shading techniques and more.
Classes running Thursdays 17th August, 24th, 31st, and 7th Sept from 6pm-8pm.
33.b Robinson St, Carnarvon
$140 for the course includes hire of the model and all major materials.
Maximum 10 places available – Bookings – 0427 555 730 or email me
Presented in collaboration by the artist Miranda Plum and the Aartworks Development Program
Please follow and like us: