Now showing at the Carnarvon Library and Gallery is a collection of artwork from participants of the Life Drawing Course, held in  2017.  If you can make it, check it out!  Here is what we had to say about it.....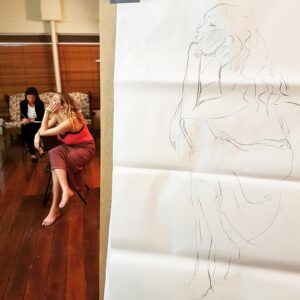 "There is something special about learning to draw in this kind of setting. It's personal, intimate and the human body is simply a beautiful thing to study.  The series of five life drawing classes attracted people from a range of artistic levels, from experienced to beginner, each drawer being able to develop and enhance their ability with each class.  With a new technical focus for each lesson, some unconventional teaching styles, and a mix of models to study, each class brought a unique quality that valued the beauty and necessity of the creative process over the end product.
The intention of the course was not just to focus on technical lessons such as proportions, foreshortening, and light and shade (though these things are important and were practiced) but to also help the artists connect with, and capture, the life of the models on paper:  Understanding how to identify balance points in the various poses and what lines will make an eye appear relaxed rather than alert contributed to being able to make the drawings look natural.  Then to really breathe the life into the illustrations energy drawings were incorporated into the studies.
Energy drawings are quick studies of a subject where the drawer has only seconds to capture the image on paper.  It seems to result in creating really fluid images that show direction of movement. It can bring expression to a pointing hand or capture urgency in a figure in motion. To introduce the concept to the class we brought in one model to play live-guitar and another that moved between playing a drum and dancing to the live music. The dancer moved slowly or held semi-static poses as the artists drew multiple images by the minute. Spending time acknowledging the energy, motion and life-force of the subjects helped the artists internalise what they were studying - connecting what they were seeing with what they were drawing on a more intuitive level.
It was also interesting to observe that throughout the classes the models themselves became part of the experience and it they who set the scene and made this style of drawing class an intimate experience. We had both male and female models, some who could have stepped onto a magazine cover and some who beautifully represented the natural woman.  Some were moving to music, making music, doing yoga or focused on the discipline of staying still for a very, very long time. As they stood in front of us and allowed us to capture their bodies on paper an immediate trust was formed.  Their bravery and acceptance of their bodies, just as they were, allowed us to be the same with our drawing.  "Imperfections" were natural and even understood as an important part of the artistic process.
By the end of the course it was a pleasure to see that even the beginner drawers had settled into their own styles, identifying their own personal flare in their work.  Drawing, art and creativity in general can be experienced as a daunting and vulnerable endeavour to pursue.  It takes courage, not just once but over and over again to push through the "imperfections" and that feeling of "it could be better".  If the process is valued then judgement is lost and that fabulous final piece of art becomes a consequence of a well enjoyed journey where one felt free enough to explore and experiment and find a part of themselves somewhere amongst the charcoal."
"There was something about drawing different people that allowed me to truly appreciate the beauty of each model and allowed me to appreciate the beauty in myself and other people around me.  I went to class thinking it would push me out of my comfort zone and that's all I wanted, to be pushed… to grow from it, and it did which is great, but I never expected to gain such an appreciation for myself and other people like I did.  I think those classes are very important for women today who are struggling to accept themselves and their bodies.  It was very therapeutic and I was tired when I left! Ha ha!"
"First time picking up a pencil was at Miranda live art drawing class last year. I was nervous and was not sure how I would go. The group of artists were at all different skill levels and the experience was really enjoyable, friendly and welcoming. I can't wait to attend another session, I have been practising and building on what I learnt at home and I am really enjoying the art experience".
Please follow and like us: