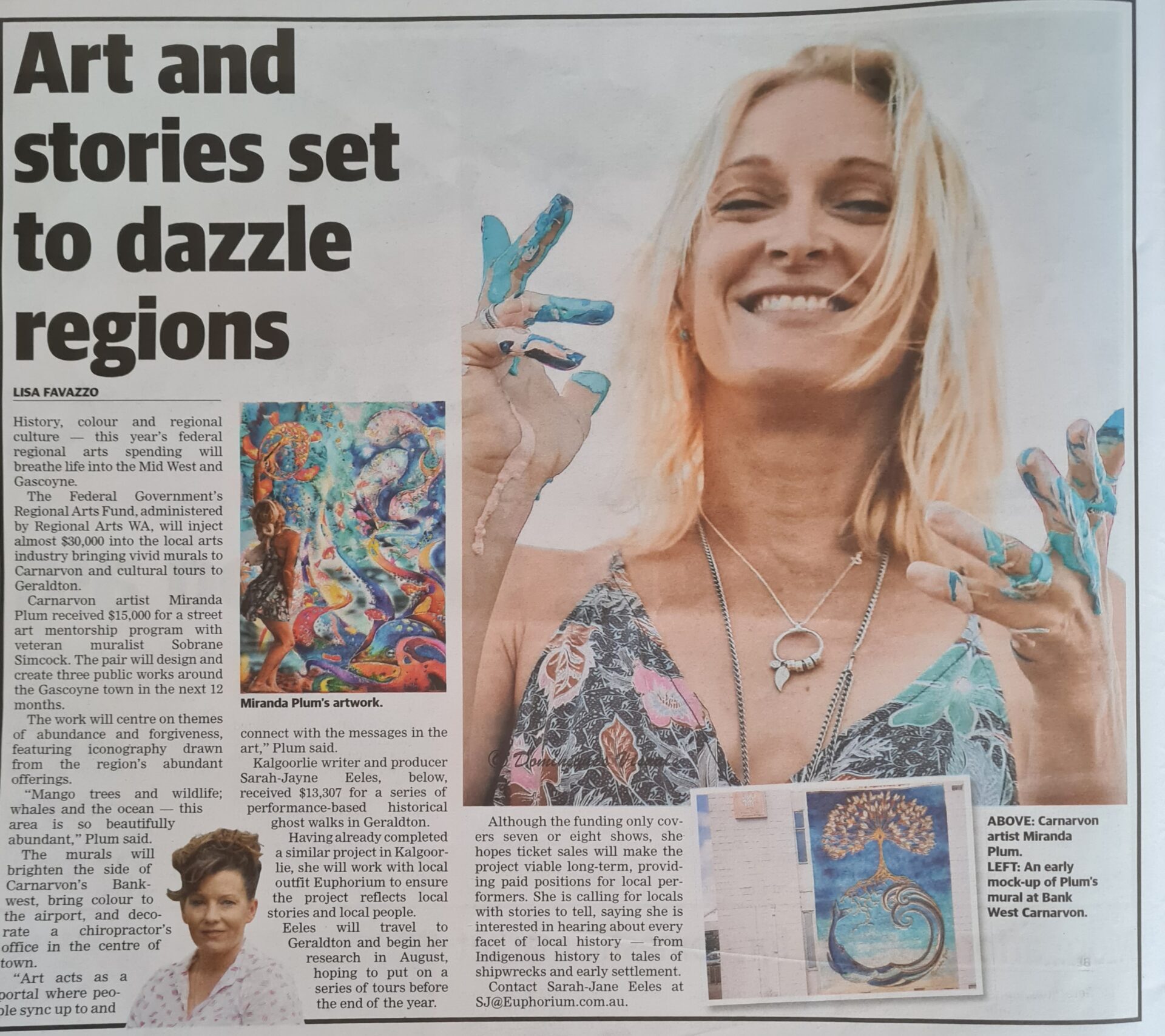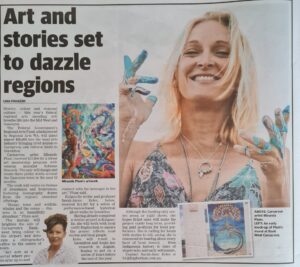 Hi Beautiful people!
Please celebrate with me!
I just received a grant to be mentored by Sobrane Simcock, one of the best WA street artists I've seen. Together we will be delivering 3 murals in my town of Carnarvon this year.
This opportunity is driven by my aspirations to move into street art as I see how it draws people in and lifts people up.  This is the power of art…  It somehow acts as a portal and we sync up to it, feeling and receiving the messages it emanates. Image this effect large scale.
For the murals I will be developing on two of my existing designs.
Abundant showcases the abundance of fresh produce and incredible marine life that people flock to our region for.  In the mural words will read simply "Today I remember I am abundant".
I love this concept because there is an an energetic difference when we act from a place of abundance vs acting from a place of lack.  We feel different,  we think different and therefore our choices of action are different. Abundance feels like a sense of trust and safety.  A feeling of "there is enough and I will be ok."
Another of the murals depicts a mass of cicadas breaking out of their shells and taking flight. When I painted this I was imagining that this is what forgiveness feels like.  How it's has everything to do you and nothing to do with them… how we build an  armour of animosity around us to protect ourselves in that relationship. But if we can soften and forgive, we are light and liberated.
(My own journey with forgiveness over the years has been helped by the understanding that we can set healthy boundaries instead, which form a safe space in which we can heal and rebuild.)
This original for this painting is called Amour, a word that serendipitously has a double meaning.  Amour, being a protective layer and Armour, meaning love.
To help work this meaning into the mural I will be adding a poem, written by my poet grandmother who inspirationally gained a degree in English Literature in her 50s after raising 4 children during the Vietnam war times.
We are scheduled to start painting in November when my incredible mentor, Broome Artist Sobrane Simcock comes down. Stay tuned for more to come.
A MASSIVE thank you to: Regional Arts WA for their Government Project Grant for regional artist who are making this project possible; The owners and tenants of the Chiropractor and bakery on the corner of Babbage Rd and Robinson, Bank West and Carnarvon Airport for their buildings; Carnarvon Shire, Steph Leca and Wesley Contracting for all their time and written support. Sobrane Simcock for being all-in (I fricken love you)  Thank you to those who pledged money to help with such a strong funding proposal. I will be forever grateful.
◇◇ You are the Source AND The Creator of the life you experience ◇◇